The event #4 at the Aussie Millions featured $1,150 (ASD) buy-in. Serge Osalan took down the event #4 of the Aussie Millions held at Crown Melbourne for a winning amount of AUD$58,315.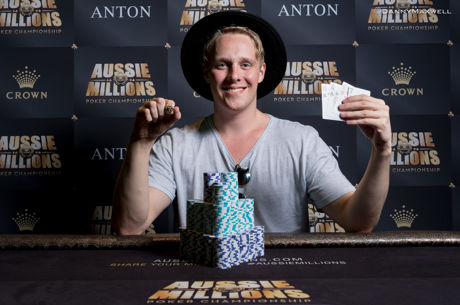 He is the second local player to be crowned champion for an event at the 2017 Aussie Millions and he looks delighted with his achievement. This was the first event of the four pot-limit Omaha events scheduled for the Aussie Millions.
Osalan was over the moon as this is the first time that he has won cash in an Aussie Millions tournament. This is his first win at the Aussie Millions tournament and also his first tournament win. There is no better feeling for a local lad to win his first tournament on home soil and Osalan is pretty much pleased with his poker efforts at the Aussie Millions this time.   
The event 4 started on Jan 16 with 237 runners. 16 of the 237 players made it to Day 2. Osalan should take great pride in his victory as some of the notable players like Felix Stephensen and Yevgeniy Timoshenko did not make it to the final table. The best part is that all barring one player who entered the final table were from Australia. Hence, this win is even more special for Osalan.
The first five spots went to Australians. The second placed Australian was Nikolaos Solomos who pocketed AUD$37,655 and the third placed man was William Zavos who took home AUD$24,280. At the far end of the final table battle, Nikolaos and Osalan were the last two men standing. When the final cards were dealt, Osalan gained victory, leaving Solomos to get the runner-up prize. Nikolaos has shown a good improvement from his last appearance as the Aussie Millions where he had finished 4th in the Event #18 and won a prize money of AUD$26, 715.